MARY BONNER HOUSE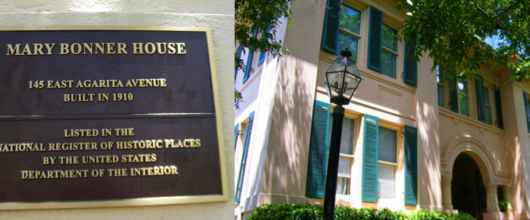 Stay tuned for more photographs. I will have several works hanging in the home of artist, Mary Bonner. Coincidentally, some of her prints are being exhibited at the San Antonio Art League Museum through February 5th.
A Short History of Bonner Garden: The Bonner House was built in 1910 by noted Architect Atlee B. Ayers for the Bonner Family. The family moved to San Antonio from Louisiana after the death of Dr. Bonner, who had amassed a comfortable fortune in cotton farming. Mrs. Bonner and her three children- Mary, Emma and William- loved the ambience of San Antonio and wished to make it their permanent home. So with the resources available to them, they built their home. The house was patterned after an Italian Villa built in the early 1600s and it made history when it was completed in 1910. Mr. Ayers established a construction precedent by building this home of concrete reinforced with steel and clad in stucco. It is believed that Mary Bonner was instrumental in incorporating an Italian flavor in the home including the use of Italian tiles, fireplaces and fixtures throughout.
Mary Bonner became internationally known for her innovations in printmaking and her own Texas motif sketches. She spent a good deal of her adult life in Paris, but returned to San Antonio where she was active in promoting the arts until her premature death at the age of 48 in 1935.