So, I have one more skull to finish after this and I will be DONE!!!!  I will have a total of 22 skulls to exhibit at the Texas Wildlife Association Convention in July.  I don't know what I'm going to do with myself with nothing to paint … hmmm maybe I will try to finish one more smaller skull.  If you want to see more views of these skulls (side views, closeups, etc) take a look at my Facebook page.  You can also follow me on Instagram.
Anyone interested in purchasing my skulls, just send me an email or text.  I can forward an inventory/price list with images.
After the July exhibit you will start to see my hand painted guitars.  I will be painting for a custom guitar company based in Dallas, Texas come late July.  More information to come …
Orange is the theme on this new hand painted bull skull!!!!  Every year I change my mind on my "favorite color".  Last  year it was red … this year it's orange.  See more images of this skull on my Facebook and Instagram pages.
I have 2 more newly painted bull skulls for the upcoming Texas Wildlife Association's annual convention.  I did not hold back on the colors on this particular skull.  I wanted it to be so bright and so fun!!!!  You can see more images on my Facebook and Instagram pages.
I have been working on nothing but my animal skulls in preparation for the upcoming annual convention with the Texas Wildlife Association.  It will be held at the J. W. Marriott Hill Country Resort on July 11-12.  I'm aiming to have a minimum of 20 various skulls.  Coyote, bobcat, longhorn, deer …
I purchased this oryx skull at a flea market and it hung in my garage for quite a long time before I got to it.  The horns are a bit rugged so I dressed them up with leather bindings in alternating colors that compliment the paint.  I wanted to pay homage to the animal's origins and decided to go with an African type of pattern.  This will be one of the skulls I will be exhibiting at the Texas Wildlife Organization's annual convention at the Marriott Hill Country Resort here in San Antonio in July.
I have been painting like mad to prepare to exhibit at the Texas Wildlife Organization's Annual Convention in early July.  This is one of many skulls I have finished.  I love this one because it's more like my paintings.  I give so much thought to each skull – taking into consideration the color of the horns, the shape of the skull, the size of the skull …  This one just seemed to speak to me and ask for the fire red poppies.  I love love love it when the inspiration flows so freely.  You can see more images of this skull and many more on my Facebook page or Instagram.
I am so relieved 2013 is in my rear-view mirror.  It was by far the WORST year for me ever – but now 2014 is here and it even though it's only January, it has been a fabulous beginning to the new year.  I'm going to keep myself walking in the light and am rethinking my strategies for the new year.
I just painted a violin that was 70 years old and had the most enchanting history.  It's owner told me, "I'm a little teary eyed thinking about my childhood and what life was like when I played this little violin.  I loved the recitals and even riding the bus in to town for lessons when I was 5 years old.  My teacher was a stern, but wonderful lady who had a studio downtown.  My older sister was taking piano lessons from her and she gave me the violin lessons for free just to see if I was big enough to actually learn how to play it.  The violin was handed down to me by a boy she was also teaching.  It was old and pretty well used up even then.  What a new life you have given it!"  I must say I was honored to be a part of this sweet violin's journey.  To take it out of the attic, make it beautiful and bring it back into her every-day life again.

I promise to be here on my blog more this year. I hope I can bring some beauty and loveliness into each of your lives with my work.  Even if it's just for a moment.
Bless you all.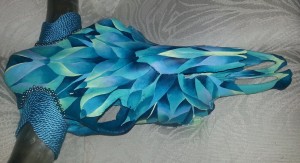 I'm finding myself in a lull.   So I am focusing on my charity work.  This year I am participating in the Christy's Hope and the Ronald McDonald House Fundraisers.  Auction items will include 2 hand painted longhorn skulls and a stool.  Then enough of this winter weather.  I am ready for summer and all the spectacular blooms.
After spending the last four months painting non-stop – and doing practically nothing else –  I now have 14 paintings showing at La Posada de Santa Fe.  All are of desert type blooms in various sizes.  Now, I wait for the summer season to start.   Waiting is the hardest part.
I have participated in the Christy's Hope Fundraiser for the Battered Women's Shelter for the last 4 years.  This year they will auction one of my hand painted goat skulls.
My next project will consist of 3 skulls – an aoudad, goat and longhorn.
If you have not seen the timeline posts on my Facebook page – take a moment to look.  They are a visual chronology of a painting's creation.
Oceans of Love!!
This is my first blog on my brand new website! Many thanks to Keoni and Steve at Wasabi Creative for their amazing work – they are truly talented. My new website is going to kick off a new year full of BIG plans. I can now sell prints and cards from the new site, which has been a long time coming. 2012 will start off with regular announcements on new works and exhibits, so be sure to sign-up on the contact page of my site so you can receive these updates. My blog area will keep everyone up-to-date on works as I am creating them – provding some insight into each new piece. I also plan to provide timeline images of my paintings on my Facebook page, which will document the creation journey from beginning to end. You can now find a link to my Facebook page on my website.
I'm currently working on a series of six paintings that will be displayed at the La Posada de Santa Fe Art Gallery in Spring/Summer 2012. It's a new format for me, 36 X 36 – smaller than I am used to but I have to admit I really dig it. This will be a series of desert flowers – poppies, holly hocks, morning glories, lilacs – all in opulent jewel tones. This is a big accomplishment for me – a lifetime dream to be exact!
My longhorn skulls are turning out to be well-liked at the Monte Wade Fine Art Gallery in La Villita located here in San Antonio. I'm expanding on this concept in 2012 and have already purchased some very unique and rare skulls – warthog, red hartebeest and black wildebeest.
Thank you everyone for all of your support and love. I would have never made it this far without you all.
Oceans of Love!